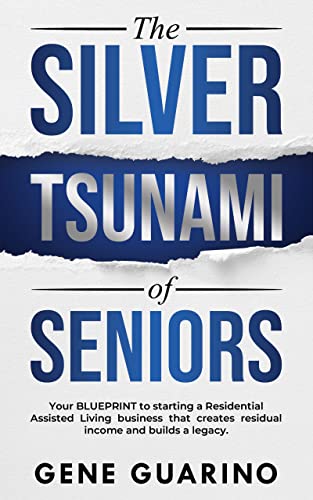 09/29/2022
"Mom Fell! You need to get here now!"
With 77 million baby boomers in the United States, people all over the country are worried about receiving the call that their mom, their dad, or their elderly loved one will suddenly have a health crisis with no one nearby to help. This generation that is responsible for aging parents is actively looking for a solution—a place for their loved ones to be cared for by professionals. That place is called "Residential Assisted Living," or RAL.
An enormous opportunity has opened up for anyone looking to start, own, or operate a successful RAL business, and the good news is that Gene Guarino's book,The Silver Tsunami, is your practical guide to discover:
Pros and cons to owning and leasing, owning and operating, or investing in a Residential Assisted Living business,

The specific types of properties that elderly clientele and their families are actively looking for,

Categories of assisted living situations (including Memory Care, Continuing Care Retirement Communities, Residential Assisted Living, and more), as well as which provides the best opportunity for new investors,

How to "recession-proof" your business from Day 1, so that you're building a long-term, appreciable asset in your RAL.

Whether you are an investor, a real estate provider or you want to operate a RAL business itself, Gene's BLUEPRINT will save you time, effort, and money with this proven formula.
Gene has trained thousands of people from across the country, how to be successful investors and entrepreneurs in many different businesses. In this book, Gene provides an A-Z blueprint and pathway to become a significant part of this lucrative industry, as well as the chance to make a meaningful difference in the lives of our aging relatives and their families.