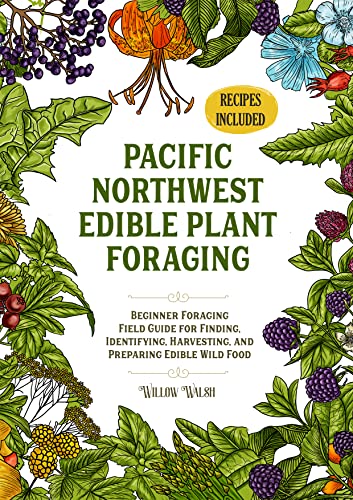 02/07/2022
Discover 37 species of edible wild plants as you identify, forage, and preserve nature's nutritious bounty.
Are you tired of paying rising grocery prices for food that always looks and feels processed?
Are you looking for an alternative yet natural way to source food?
Then it's time to look towards nature!
That's right. Open the door to your backyard, and take a good hard look. Take a walk in the forest. Explore the fields.
Nature is exploding all around you. 
And something special lurks within this verdant paradise -- tasty edibles just waiting to be foraged.
Experts estimate that there are more than 20,000 species of edible plants in the world... yet 90% of our food comes from only 20 of them.
There are thousands of edible plants out in the wild which are both delicious and nutritious… So why aren't we eating them?
The Pacific Northwest, with its lush forests and rich habitats, provides the perfect backdrop for numerous species of edible wild plants.
Accessing all this wealth simply requires you to forage.
You must be wondering:
How do I forage for edible plants -- and where exactly do I look?
How do I know which part of a plant is edible?
What if I encounter poisonous plants?
The solution to all your questions can be found here.
In Pacific Northwest Edible Plant Foraging, you will discover:
37 edible plant profiles of the Pacific Northwest

 -- identify, harvest, preserve, and consume nature's finest offerings
A beginner-friendly guide to all things foraging, including all the benefits (hint: it will help you slash your grocery bills!)
A complete plant identification guide -- discover the essential parts of a plant and how you can identify them

The universal edibility test -- an 8-step process for finding out whether a plant is consumable or not

Ethical and responsible foraging guidelines -- safety considerations, urban foraging, and nature conservation
Exactly how to forage for edible plants -- a look at locations, tools, harvesting techniques, and more

Seasonal information on edible species... so that you can plan ahead (plus: a handy year-round foraging chart)

How to identify poisonous plants -- and how to treat the symptoms associated with them (for ultimate peace of mind when you're foraging)
A companion mini-guide filled with colored images of plants – scan the QR code at the back of your paperback to get premium access!
And much more.
Foraging is a great way to connect with nature in a responsible way: by becoming a part of the ecosystem.
It makes you aware of the nurturing quality of nature, and how you can preserve it for every living being.
Plus, you get nutritious and delicious rewards too – included in this guide are 10 creative but simple recipes for the whole family!
So what are you waiting for?
Genre: