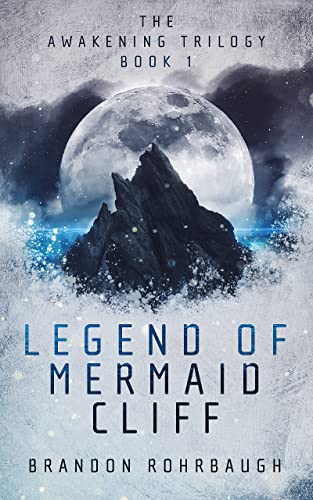 01/06/2023
After his crush's mysterious death, a teen boy uncovers century-old dark secrets in his small town.
A sinister underworld of demons and angels is revealed in this YA debut.
Sixteen-year-old Mark Parker is devastated when he learns that his high school crush, Veronica McBride, has been found dead at the bottom of a cliff in their small beach town of Rockport. As the last person seen with the ill-fated girl, the town becomes suspicious of Mark and he swears to find the truth—but in doing so, he uncovers unearthly and evil secrets his town has been harboring for a century.
Until Veronica McBride and her family moved to the small beach town of Rockport, its citizens were all from the original bloodlines of the town dating back to it's founding in 1917—the same year the suicides began and the legend of Mermaid Cliff was born. With a suicide mysteriously happening every twenty-five years, the legend went that a mermaid lured people to the edge of the cliff, and they were in such awe of her that they walked right over the edge, falling to their death. But legends are stuff of lore… or so Mark believed.
Mark thought he walked Veronica home after the big party the night before, but he can't be sure since he partied a little too much. When snarky classmates accuse Mark of having something to do with Veronica's death, his best friend Jason assures him that he saw those classmates—whom he calls the Seven—at the entrance of Mermaid Cliff that night as he was driving home. Trouble is, the Seven includes Mark's older brother, Charles. When the FBI's Agent Amelia Taylor arrives, it's confirmed that Veronica's death was a homicide, and Mark, along with Jason, is determined to find out who's responsible.
As Mark starts asking around, he's collecting more questions than answers. His mother claims she was home but wasn't. Old Man McGinty, who found Veronica's body on the beach, has piles of newspaper clippings of the legend's tragedies…along with a charm from Veronica's bracelet. Even the FBI agent has a strange connection to the town through her own tragic circumstances.
"Don't believe everything people tell you, boy," the old man tells Mark. "Everything in this town is connected in a way you or I will never fully understand…"
Jason and Mark come to realize that their town is full of dark secrets, and their poking around is unveiling them one by one. "Loyalty. We may be connected to the rest of this world by land, but we have our own traditions and secrets we keep to ourselves," his mom said mysteriously. "Some secrets are better kept secret…" Soon, Mark will learn of his own role in his town's terrifying evils—and his destiny to stop it and put the legend to rest.
The debut book in The Awakening trilogy.

For fans of The Mortal Instruments, Twilight, and Stephen King's IT.