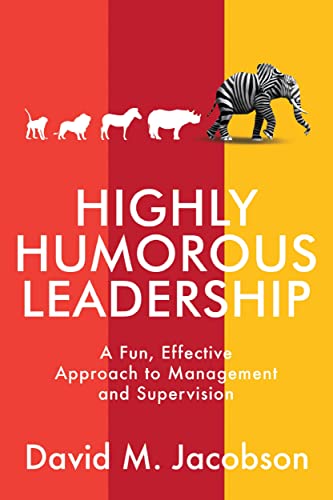 02/11/2023
If you could learn how to have an employee engagement rating of over 90% and a leadership effectiveness rating of 99%, would you be interested? These statistics are not just lofty goals. These are results author David Jacobson received on anonymous employee surveys while working as a hospital director. He attributes his success to his highly humorous leadership style.
Highly Humorous Leadership: A Fun, Effective Approach to Management and Supervision is a fantastic resource for effective leadership full of self-reflection and examples from the author, lots of tools to use for self-reflection in practice and to implement with your team. Great insights that you hadn't read before and a book that you will return to again and again to continuously improve your leadership skills.
You will be genuinely shocked by how much you enjoy this read! Even if you have a great sense of humor, you have no idea how vital humor can be specifically in the workplace until you read this book.
David Jacobson, LCSW, C.H.P. has spent his life infusing humor into everything he does, partially out of necessity (due to suffering from arthritis starting in his early 20s) and partially out of just a pure passion for therapeutic humor.

He's used his appropriately-placed humor in many leadership roles, and he essentially provides us with a handbook to do the same.
This book can help set me up any leader for success. Jacobson describes in detail the four categories of humor and how they can impact the workplace.

In fact, some humor can actually damage both the person delivering the humor and the person receiving the humor. When humor is used in the right way, it can dramatically impact the workplace. Employees feel heard, empowered, appreciated, and motivated to the extent that it impacts their productivity. Jacobson provides real-life examples of this phenomenon, with the financial, productivity, engagement and leadership effectiveness documents to prove it.
The book's purpose is to discuss how important the integration of humor is into leadership, and it does so beautifully.

The book has a conversational tone. You'll feel more like you're having a conversation with someone rather than reading,

This book is as much about being a good leader as it is about the importance of humor as a leader. And for that reason, everyone should read it. Leader or not, it can help you understand the power of a good leader, the symptoms of a bad one, and what to look for in a prospective leader.